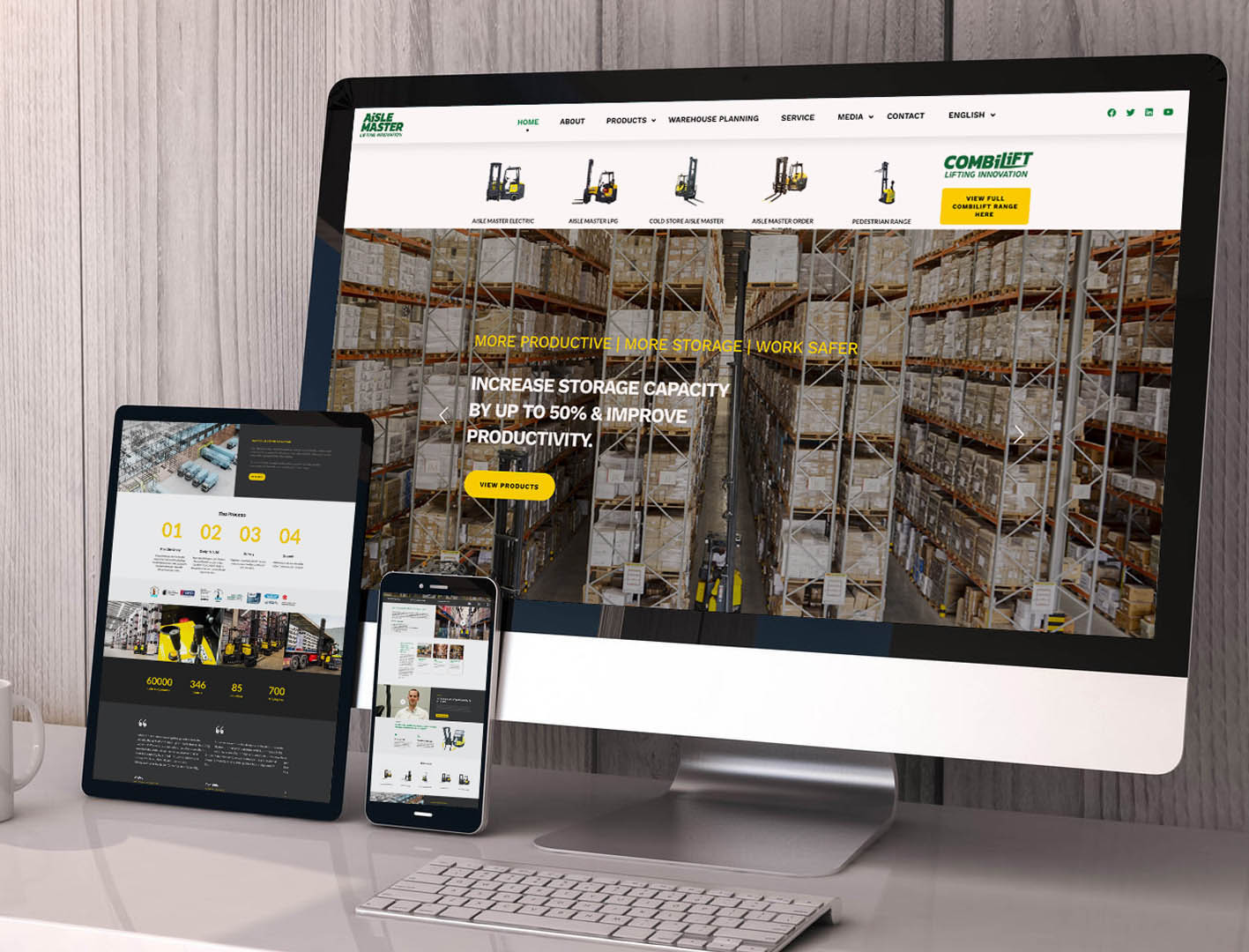 24 Aug

Case Study: New Site, New Traffic, New Leads for Aisle Master

An already globally-renowned materials handling brand wanted to find and convert even more customers online. Our answer? We told Ireland famous Aisle Master team that our specialists live for exactly this kind of 'time to shine' challenge.

And that's exactly what we did. How? An all-new Aisle Master website delivered in six languages along with international Google Display campaigns plus content designed to start talking with – not at – a wave of new traffic.

And let's not forget the important bit: plenty (and we mean plenty) of high-value leads.

As they say in our part of the world: we're some team for one team.
Meet Aisle Master
The folks at Aisle Master do one thing really, really well: their experts take a client's warehouse and squeeze every drop of speed, storage and efficiency from it through a narrower aisle redesign. Then they add special built-in-Monaghan Aisle Master forklift trucks designed to work in smaller spaces. Simple. 
The company is a brand of materials handling giant Combilift and operates across the globe. Between them they've sent 60,000 units into the world and operate a support network reaching from Alaska to Australia.

Frankly, an Irish success story we were proud to help. Plus, the entire team now knows more about forklift trucks than we'd ever thought possible. A perk of the job, yes, but if you need a forklift please speak to the people at Aisle Master and not us.
The Big Plan


Let's TL:DR this entire section into a bottom line we hear in so many initial client meetings: 'we need more quality leads please and thank you'.
We devised three clear steps…
An all-new, featured-packed website purpose-made to help mere traffic become active enquiries

Worldwide Google Display campaigns to draw the right eyes towards Aisle Master's new online 'shopfront'

Engagement-generating blog and site content designed to hold visitors on the new website for longer and start a conversation too
The How of the What
Our designers created a website with a brand more aligned with Aisle Master's  Combilift parent. They included features like a blog/ case study section, a streamlined warehouse planning page and a live chat function.
Oh, and it was delivered in French, Spanish, Portuguese, Russian, German, Polish, Italian and Turkish. 
While our digital specialists launched Google Display ads in the US, UK and EU to support the slick new site, high-quality SEO-focussed blog and site content brimming with USPs, talking points and clickable information was added by in-house Creative Media copywriters.
The Numbers


This is the part where we get to brag about the outcomes.
So, don't mind if we do…
46% increase in organic visitors through improved content and SEO

Overall user acquisition up by 33%

14% rise in leads in same period in 2021 vs 2020

Great RoI through a high monthly volume of relevant leads
All in all, a superb client meets a powerful plan. The results? We think they speak for themselves.